Building Repair and Maintenance Manual 2019 By CPWD
Building Repair and Maintenance is work undertaken to keep, restore or improve the facilities of a structure or building which include housekeeping, civil, E&M services, horticulture and landscaping to keep the structure/building in good conditions and in currently acceptable standards to sustain its utility and value.
The objective of maintenance is: –
(i) To ensure safety of the occupants or the public at large.
(ii) To preserve building and services, in good operating and habitable conditions.
(iii) Where so required to upgrade, renovate, rehabilitate, or retrofit the facilities to improved specifications and standards.
| | |
| --- | --- |
| Name of Article | Building Repair and Maintenance manual |
| Type of Article | Manual |
| Year of Publication | 2019 |
| Published by | CPWD (Central Public Works Department) |
| Official Website | https://cpwd.gov.in/ |
| How to Download | Link in Below |
| Total PDF Size | 2.22 MB |
| Total No. of Pages | 80 Pages |
Maintenance Services
CPWD maintains Central Government assets whose ownership is vested with the Ministry in charge of Works (Presently the Ministry of Housing & Urban Affairs) and or from funds reflected in its Demand of Grants. It also maintains, at the option of the owning entity and the Department, assets from the funds provided by respective organisations. CPWD takes up maintenance of assets and buildings not constructed by CPWD on the approval of authority prescribed in CPWD Works Manual. Wherever CPWD is called upon to maintain such works, following steps may be taken:
(i) Detailed inspection may be carried out of the building and services from safety and maintenance view, record kept of the defects and deficiencies, and brought out in the notice of the client in the preliminary estimate with photographs/videos.
(ii) The client may be encouraged and advised to enter into MoU of a longer period say 5 to 10 years for taking up its original works also.
(iii) Structural defects endangering safety to the occupants or the public at large must be taken up as the first priority.
(iv) Method of comprehensive outsourcing of repair and maintenance should be adopted. In case, the method is not adopted, approval of CE/ADG should be taken.
The repair works are classified in under mentioned categories:
1. Day to day repairs/service facilities
2. Annual repairs including preventive maintenance
3. Special repairs
In addition to above the following works are also executed as per guidelines prescribed by Government of India.
(a) Additions and Alterations Works in the buildings
(b) Upgradation (including Retrofitting and Aesthetic Improvement)
(c) Supply & maintenance of furniture & furnishing articles for Ministers, MPs & Judges of Supreme Court & High Court & other VIPs in Delhi.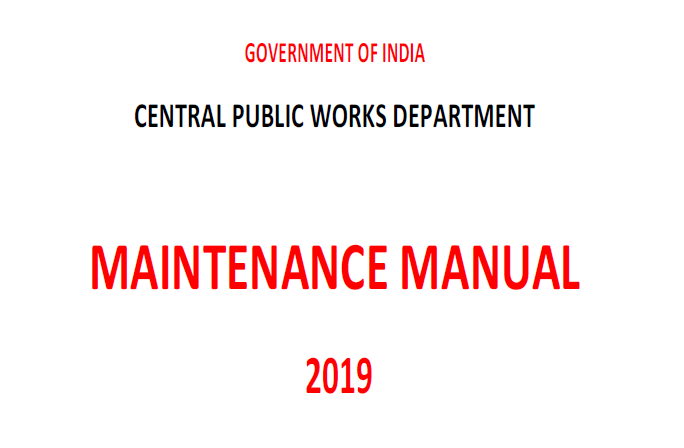 TABLE OF CONTENT
1. MAINTENANCE
2. ANNUAL ACTION PLAN AND RATE CONTRACT SYSTEM
3. SERVICE CENTRES
4. DAY TO DAY AND ANNUAL REPAIRS
5.SPECIAL REPAIR
6.ADDITIONS / ALTERATIONS / UPGRADATION
7.PREVENTIVE MAINTENANCE
8.HORTICULTURE MAINTENANCE
9. MAINTENANCE OF VIP RESIDENCES
10. ENCROACHMENT
11. COMPREHENSIVE MAINTENANCE